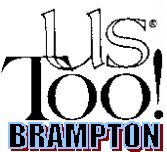 Apr 2001 Newsletter
WEB SITE: www3.sympatico.ca/dongrantmon
E-MAIL: dongrantmon@sympatico.ca
TUESDAY, MARCH 24, 2001.
NEXT US TOO MEETING - TUESDAY, APRIL 10, 2001
CAMPUS AUDITORIUM, WILLIAM OSLER HEALTH CENTRE, 7:00 - 9:00 P.M.
BRAMPTON MEMORIAL HOSPITAL, 20 LYNCH STREET, BRAMPTON, ONTARIO.
Our guest speaker for the evening will be Lori Quinn Kelly, R.N., Halton. At press time a subject was not yet discussed, but Lori is very knowledgeable about prostate cancer and will be able to field most questions about the subject.
New videos are available for the second half of the evening, time permitting.
ALL BULLETINS THIS MONTH WERE SENT BY CANADA POST WHILE I TRY TO IMPROVE MY GOLF SWING IN A WARMER CLIMATE.
MARCH MEETING
Close to 50 members, wives and guests braved the elements to spend an evening with the Canadian Cancer Society Brampton-Caledon Unit. US TOO-Brampton chairman Fred Norris presented a cheque for $792 to new Society Manager Theresa Culliton. The donation was from the proceeds of the play "No Big Deal?" and will be used for prostate cancer research. The Society's Sue Snider then showed a film and made a presentation about "Relay For Life." Sue extended a special invitation to US TOO members to participate in the Survivors' Victory Lap by walking the first lap of the 2001 Relay For Life at the Caledon Fairgrounds (Hwys. 10 & 24) on June 15 at 6:00 pm. The pink victory-lap forms are on our information table.
After coffee, the US TOO members discussed the roles of the various committee members.
WHAT'S AHEAD?
What can you expect in the coming months?
On May 8th, Urologist Jack Ward will discuss hormonal treatment for a rising PSA and how Etobicoke is adjusting to amalgamation. In addition we will
be honoured to have the Canadian Prostate Cancer Network chairman Curtis LeGrow and Ontario Coordinator Derek Lawrence as our guests.
Our fiscal year ends on June 12th with a ladies' appreciation night and potluck get-together. For that night we will break up into discussion groups by name-tag colour with the first two tables dedicated to the ladies. The "mike" will be on if the ladies or anyone else would like to say something. The second part of the evening will be our potluck meal.

NEW MEMBERS
Joining our group this month: Melvin & Marjorie Cousins, Melvin & Gail Donnelly, Arthur & Lois Downey, Bob & Brenda Luciw, James & Eileen Marley, Franco & Rosanna Salis, and Sam & Barbara Thomas. This was the largest sign-up month we've ever had, with 7 men joining our group. The next new member meeting will be Tuesday, April10thth in the small meeting room adjacent to the hospital auditorium, beginning at 6:00 p.m. All future new member meetings during 2001 will be held in the small room on the same night as regular meetings.
AWARENESS COMMITTEE
As coordinator Ian Smith indicated at our March meeting, the committee is planning to operate information tables at several locations. He expects to soon confirm the following schedule: Wal-Mart (Hwy 10 at Bovaird) in May; Snelgrove market (June or July); Wal-Mart Airport Rd/Queen St. in August. We need volunteers to hand out literature at these events for the appointed days.
We will be looking for a show of hands at our April meeting when the actual dates and times will be announced. Come on guys, we need your help.
A presentation to about 40 nurses from the Assurance Group is now scheduled
for April 20th, with Fred Norris and Alec Gardiner leading the way. They will be assisted by Ian and yours truly. This disease can be beaten and US TOO-Brampton has a commitment to let the public know this.
GOLF COMMITTEE
After two meetings the committee decided on a scramble tournament with 72 golfers in a shotgun start with a meal and prizes afterward. We are still working on arranging the golf course to obtain the best possible deal for the membership. We have attached a form to be completed by any member interested in participating before we go to other sources to obtain the 72 golfers. It is most important that we verify the numbers. Golf shirts and prizes are also discussed on the form.
FUNDS
Steve Hurst, the owner of Pinnacle Pharmaceutics, has made a sizable donation to our treasury. This donation is to be used exclusively for prostate cancer awareness,
which includes the two new committees. Thanks Steve, we appreciate your generous offer and we will make sure it is used as per your request.

Enjoy the evening,

DON GRANT - COMMUNICATIONS..........................................US TOO - BRAMPTON