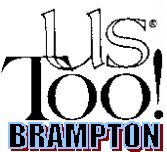 Apr 2002 Newsletter
NEXT US TOO MEETING - TUESDAY APRIL 9, 2002
CAMPUS AUDITORIUM, WILLIAM OSLER HEALTH CENTRE, 7:00 - 9:00 P.M.
BRAMPTON MEMORIAL HOSPITAL, 20 LYNCH STREET, BRAMPTON, ONTARIO.
SPEAKERS - DANIELA BRANCATELLA & KRISTEN WALMSLEY AND DR. RICHARD CASEY
Our April meeting will feature two topics. First, Daniela Brancatella and Kristen Walmsley from the Canadian Cancer Society will present details of the 2002 Relay for Life and register participants for the Survivor's Victory Lap that opens this event each year.
Second, Dr. Richard Casey, a Urologist from Burlington, will discuss "New Non-Hormonal Treatment of Localized and Metastasized Prostate Cancer." Several members who have heard him speak have suggested that we ask him to speak to all of our members.
MARCH MEETING
More than 80 members and guests heard an interesting and often controversial talk by Dr. David Saul, a Scarborough - based physician and author of "Sex for Life". Instead of "Erectile Dysfunction" as was advertised in the March newsletter, his topic was "Prevention Opportunities for Prostate Cancer." Audience response was outstanding, one of the most interesting questions being "What CAN I eat?" The concensus appeared to be that many of us are going to continue to eat bananas despite recommendations to the contrary.
REMINDER: PC-SPES HAS BEEN RECALLED
On February 8, 2002, the United States Food & Drug Administration (FDA) advised that two products sold as PC-SPES or SPES and manufactured by BotanicLab in California should not be used. These "...herbal supplements .... actually contain powerful prescription drugs." Speak to your doctor immediately if you are affected.
WHAT'S AHEAD
In May, Arlene Dalton will present a "Yoga Demonstration", a pleasant change of pace.
The June meeting will be our usual social wind-up to the season and a "Computer Night" highlighting our web site and showing you some of the many other resources available on the Internet. If you have been considering purchasing a computer, take this opportunity to talk with our resident computer "geeks", Mukul Luthra and Jim Dorsey.
NEW MEMBERS
The April new member meeting will be held 7 p.m. on Tuesday, April 23 in the auditorium The following people joined our group in March: Peter & Monica Barhydt, Peter & Mara Kuipers, Jose (Pepe) & Asuncion Palad, Arthur & Isabella Ross.
WEB SITE
Remember that you can get this newsletter from our web site by clicking on the "newsletter" link.You can even print it.
FINANCES
Gerry Brunjes reports that Registration as a Charitable Institution under the Federal Income Tax Act is underway. Our brethren in Manitoba and British Columbia assure us that this IS the way to go if only for the following reason:
' Charities enjoy certain tax privileges. Charities have exemption from, and reduced liability for, some municipal, provincial and federal taxes. Registered charities under the federal Income Tax Act can issue income tax donation receipts so that donors can obtain tax credits'. This will make it easier for us to fund the ongoing operation of our proposed information centre, as donors can write off their contributions.
But before we can seek Federal registration, US TOO must be incorporated as a charity in the Province of Ontario, whereupon other benefits accrue, which are desirable from a responsibility standpoint. We are making haste slowly in order to do the job properly and within our means. By the date of the next newsletter, we hope to be incorporated.
SPIRIT LAUNCHED IN TORONTO
The most important prostate cancer trial of the decade is opening in Toronto this month. SPIRIT stands for Surgical Prostatectomy vs Interstitial Radiation Intervention Trial. This is a North America wide trial designed to compare radical prostatectomy to prostate brachytherapy (seeds), and is run by the American College of Surgeons Oncology Group and the National Cancer Institute of Canada.
With the cooperation and participation of 1,900 men in the United States and Canada over the next 6 years, SPIRIT will finally give us the answers to some very basic and fundamental questions concerning these two mainstream treatment options for early stage prostate cancer.
Both treatments are highly effective, but which one gives you a higher chance of cure? Or are they truly equivalent? And which treatment will give you a better quality of life over the years following your treatment?
Unfortunately, at present, no one knows the answers to these questions. We need these answers, and YOU need these answers, and we need YOUR help!
If you have a stage T1c or T2a prostate cancer, with a Gleason score of 6 or less, and a PSA not greater than 10, you may be eligible to participate.
Spread the word. Your sons and grandsons will thank you.
For information contact Kris Wallace @ Princess Margaret Hospital 416-946-2000
Or Dr Juanita Crook @ PMH or Dr Neil Fleshner at Toronto Sunnybrook Hospital
A MESSAGE FROM OUR CHAIRMAN, FRED NORRIS
Spring has sprung or so the weather buffs tell us? It is time to clean the clubs, hit a few balls and hone your skills in time for our tournament in June.We want to make it the same success as last year if not better. This and other functions require planning and involvement of several people, not just your steering committee. We also have an awareness day coming in May where 8 -10 people will be required so that the load is spread evenly. Don't wait for the guy/gal next to you to make a move it is important that you get involved NOW so that we can increase public awareness of PC.
RELAY FOR LIFE
Several members of US TOO - Brampton have decided to enter a team in this year's Relay For Life, operated by the Canadian Cancer Society. Teams of 10 - 12 people participate in this overnight non-competitive relay by walking, running or strolling around a track. If you wish to participate, contact team Captain Jim Dorsey, (905) 453-3038 or Ian Smith (905) 454-3880. This year's Relay will be held at the Caledon Fairgrounds on Friday, June 21st.
2002 GOLF TOURNAMENT
Our 2002 Golf Tournament will be held on June 24 at the Acton Golf Club. If you'd like to join our golf committee and help make this an outstanding event, contact Morris Rambout at (905) 793-8843 or mrambout@idirect.com. Morris would like to find three or four members to help. We will provide more information as it becomes available.
HELP STILL NEEDED - VICE CHAIRMAN
The vice chairman's job is to back up and learn the role of Chairman. This person would help out when our Chairman Fred Norris is on vacation or under the weather. Nominations should be forwarded to secretary Marg Butterly.
REPORT FROM CHINA
Member Mukul Luthra telephoned from Mainland China Monday morning. After undergoing laparoscopic surgery in February, he is already back at work consulting with electronics manufacturing companies in southeast Asia. Interestingly, his voice was clearer than Gerry Brunjes's was on the same telephone.
DON GRANT IS STILL AWAY
Don is still roughing it at The Villages in central Florida and reports that this complex definitely has everything that he needs. Seems he has to golf every day whether he wants to or not. Keep them straight down the centre, Don!
GOOD NIGHT, MRS. CALABASH, WHEREVER YOU ARE....
Sam went to see his doctor and took a seat in the waiting room. As he sat there, his friend Sol walked in and saw him sitting there. Sol was a notorious stutterer.
"H-H-Helllo Sam-m-m-m, n-n-nice to see-ee-ee you. Wha-wha-what are y-y-you d-d-doing he-he-here at-t-t the d-d-d-doct--doctors?"
Sam replied "I'm here for a prostate examination."
Wha-wha-what's tha-tha-tha-tha-that?" asked Sol.
"Well," said Sam, "it seems I pee the way you talk."