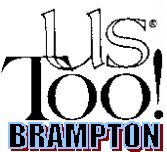 Dec 2002 Newsletter
Next Us Too! General Meeting

(Note: This meeting is on the 2nd Wednesday rather
than the Usual Tuesday)
Campus Auditorium, William Osler Health Center, Brampton.
Us Too Brampton is pleased to announce
"An Evening with Sandy Hawley"
Sponsored by the Ontario Jockey Club
Diagnosed with skin cancer in 1987, Sandy now has a clean bill of health,
but he still receives a series of vaccine shots annually.
Sandy Hawley is "Living Proof" that Cancer can be beaten.
Images no longer available

A native of Ontario, Sandy rode his first winner in 1968 at Woodbine
and was North America's leading apprentice in 1969.
He spent most of his time racing at Woodbine and in southern California.
Sandy's riding prowess has brought him many awards in Canada & the U.S.
Twice selected for the Lou Marsh Award as Canada's Leading Athlete,
Sandy Hawley retired from racing in 1998.
Us Too! General Meeting
Tuesday, January 14, 2003, 7:00 - 9:00 PM
Campus Auditorium, William Osler Health Center, Brampton.
Us Too Brampton is proud to welcome

The Honorable
Tony Clement

M.P.P. Brampton West - Mississauga
Minister of Health and Long -Term Carefor Ontario

Tony Clement is the M.P.P. for Brampton West - Mississauga and was appointed
Minister for Health and Long -Term Care on February 8, 2001.
In this portfolio, he oversees the province's hospitals, long-termcare facilities,
the Ontario Health Insurance Plan, community careaccess centres, public health
and emergency health services.
Tony's current responsibilities also include serving on the Health
and Social Services Committee of Cabinet and on theManagement Board of Cabinet.
REMAINDER OF OUR 2002 - 2003 PROGRAM

February 11, 2003 : Mr. Alex Isbister, M.S.W, who was highly recommended to us
by other support groups, will speak on Cancer and Emotion at our meeting.

March 11, 2003: Dr. Mohammed Ibrahim from Brampton Memorial Hospital will host
an Open Forum to field your questions about Prostate Cancer.

March 19, 2003: Announcing Bramlea Live Theater's CHARITY NIGHT performance of
Noel Coward's "Blithe Spirit"
at Cyril Clark Library Theater, seating approximately 180 persons
The Performance starts at 8:00 PM; there will be at least one 15 minute intermission.
For reservations, tickets and details please contact: Gerry Brunjes,
Telephone: 905 791 3043, email: brunjes@idirect.com

April 15, 2003: Dr. Robert Bristow, Princess Margaret Hospital- under negotiation

May 13, 2003 : Dr. Richard Casey - Clinical Trials

June 10, 2003: Tania Giaquinto, Sunnybrook Hospital - Nutritionist - under negotiation

Jim Dorsey - Newsletter Editor
(905) 453-3038
LET'S MAKE CANCER HISTORY.
---
PROSTATE CANCER AWARENESS!
Prostate Cancer Canada Network - Brampton
· Tel: · Fax: 905-840-9474 · Email: info@pccnbrampton.com
© Prostate Cancer Canada Network-Brampton, All Rights Reserved