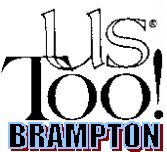 Jun 2001 Newsletter
WEB SITE: www3.sympatico.ca/dongrantmon
E-MAIL: dongrantmon@sympatico.ca
FRIDAY JUNE 1, 2001
NEXT US TOO MEETING - TUESDAY, JUNE 12, 2001
CAMPUS AUDITORIUM, WILLIAM OSLER HEALTH CENTRE, 7:00 - 9:00 P.M.
BRAMPTON MEMORIAL HOSPITAL, 20 LYNCH STREET, BRAMPTON, ONTARIO.
LADIES' APPRECIATION NIGHT & POTLUCK GET-TOGETHER
Our fiscal year ends on June 12th and we have put together an interesting evening. You will not sit with your other half tonight, men. The front three tables are for the fair sex only. We will also have tables designated by the colour of your name tag or treatment, so you can chat it up with others with a similar problem. The "mike" will be on so that both your mate and YOU can have your say on any issue. At our normal coffee time, we will break for our potluck feast and complete a very successful year.
WANT YOUR BULLETIN VIA E-MAIL?
Last month Jim Dorsey sent several bulletins via e-mail. What we need from you is feedback. Let us know if you were able to read your bulletin and would like to continue to receive it this way. E-mail: UsTooMail@cs.com
MAY MEETING - THREE FOR ONE
Close to 80 members, wives, friends, and guests were treated to a full evening of information. Urologist Jack Ward explained Etobicoke's role in the William Osler Health Centre amalgamation and discussed hormonal treatment for a rising PSA. After coffee, the CPCN chair, Curtis LeGrow addressed the group on various topics about our parent organization. He indicated there are now 105 support groups across Canada with 37 in Ontario. There are 200,000
people involved with various prostate cancer groups creating a higher cure rate due to PSA screening. Ontario coordinator, Derek Lawrence also addressed the chapter on several topics including "Noni juice." All three speakers provided the answers to the many questions asked by our membership.
RELAY FOR LIFE
Don't forget the "Relay For Life" evening at the Caledon Fairgrounds on FRIDAY JUNE 15th The Canadian Cancer Society have extended a special invitation to our membership to participate in a victory lap (walk) for cancer survivors. Last year Gerry Brunjes and I were there and we found it very rewarding - and they also treated us to some food! The pink application forms are on our information table.
WHAT'S AHEAD?
There will be no formal meetings in the auditorium during July and August.
But the new member meetings will continue through the summer, since cancer doesn't take a vacation. The Steering Committee will be organizing planning meetings during this time period. We continue to have one of the best prostate cancer support groups in Canada, but this does not just happen. A LOT of ongoing work and planning are required.
NEW MEMBERS
Joining our group this month from our regular May 8th meeting, were Reg & Josephine Ballam, Jim & Maureen Philpott and Robert Hajek. The next new member meeting will be Tuesday, June 12th in the small meeting room adjacent to the hospital auditorium, beginning at 6:00 p.m. All future new member meetings will be held in this room until the fall.
AWARENESS PROGRAM
Awareness coordinator Ian Smith and volunteer Sean Butterly had a very successful day at Wal-Mart (Hwy.10 at Bovaird) on May 26th. These two gentlemen handed out about 75 copies of our prostate cancer awareness bulletin and talked to many men and women about the disease. Ian is also working on Snelgrove market (June or July), Wal-Mart Airport Rd./Queen St. in August and our annual booth at Shoppers World in Brampton in September. OUR AWARENESS PROGRAM NEEDS YOUR HELP. Ian is still looking for volunteers to hand out literature on these dates. This is your chance to help others and make them aware of the disease. It's only for a couple of hours. DON'T LET TWO MEN DO ALL THE WORK.

GOLF DAY UPDATE
The planning for the golf tournament on MONDAY JUNE 25TH at ACTON GOLF
CLUB is right on schedule. The cost of the shotgun, scramble format tournament will be $50.00 per golfer which includes green fees, power cart, balls, prizes and a barbecue luncheon. The two-item barbecue consists of any two of a hamburger, hot dog, sausage or chicken, several types of salads, coffee and dessert. This in my estimation is a fantastic deal for a day of fun and it's for a good cause. The barbecue only price is $13.00. The $50.00 per person entrée fee should be mailed to:
Don Grant , 17 Cavendish Cres., Brampton, Ontario. L6T 1Z3
We are still looking for prizes for the tournament; please see Morris Rambout, John Giroux, Frank Connolly or myself if you would like to donate prizes or money. A special thank you to members Al Hustins and Jack Tothe for your prizes; you got us rolling.
We are still working on the golf shirt idea and expect to have more information in time for our June meeting.
MEMBERSHIP
Our membership now exceeds 120. It has become increasingly difficult to provide all desirable services to you with our current steering committee. Due to the increased workload, some sick members have even gone unnoticed and unvisited. We desperately need help in all areas of the chapter. If you would like to donate some of your time in any capacity, please contact Fred or any committee member. Your experience is invaluable to us.
US TOO - Brampton cares about all existing and prospective members. If you need help or just want to talk, please let a telephone or steering committee member know. We now have veterans of just about every available treatment. Reminder: At our June meeting, the "mike" is yours if you have any ideas that you would like share with your fellow members.
Please come and enjoy the evening, but if you can't make it on the 12th, have a healthy summer. I leave you with the following words of wisdom.
" AIN'T IT THE TRUTH"
MY NOOKIE DAYS ARE OVER,
MY PILOT LIGHT IS OUT,
WHAT USED TO BE MY SEX APPEAL,
IS NOW MY WATER SPOUT.
TIME WAS WHEN, ON ITS OWN ACCORD,
FROM MY TROUSERS IT WOULD SPRING,
BUT NOW I'VE GOT A FULL-TIME JOB,
JUST TO FIND THE BLASTED THING.
IT USED TO BE EMBARRASSING,
THE WAY IT WOULD BEHAVE,
FOR EVERY SINGLE MORNING,
IT WOULD STAND AND WATCH ME SHAVE.
NOW AS OLD AGE APPROACHES,
IT SURE GIVES ME THE BLUES,
TO SEE IT HANG ITS LITTLE HEAD,
AND WATCH ME TIE MY SHOES.
Don Grant - Communications
LET'S MAKE CANCER HISTORY.