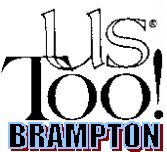 May 2002 Newsletter
NEXT US TOO MEETING - TUESDAY MAY 14, 2002
CAMPUS AUDITORIUM, WILLIAM OSLER HEALTH CENTRE, 7:00 - 9:00 P.M.
BRAMPTON MEMORIAL HOSPITAL, 20 LYNCH STREET, BRAMPTON, ONTARIO.
SPEAKER - ARLENE DALTON
Arlene's topic is "Yoga, Meditation and Health". Arlene is a Yasodahara Ashram Certified yoga instructor with a background in Social Services and Early Childhood Development. During 10 years as a Program Facilitator/Life Skills Instructor, she has developed and delivered a number of classes related to disability management, specifically to individuals with chronic pain disorders. Currently, she teaches Hatha yoga to Seniors, Adults, Teens and Kids.
Arlene will attempt to clear up some common misconceptions about what yoga really is. She will explain how Hatha yoga asanas (postures) combined with meditation or mindfulness can help us to cope successfully with difficult situations.
Arlene will teach us some basic asanas, so she suggests that we wear comfortable clothes. Since we will not have any mats, we will not do any "floor work". Instead, we will do a few very basic standing postures, followed by a brief "mindwatch" and ending with a short relaxing meditation. This promises to be an interesting session!
APRIL MEETING
In this two-part meeting, some 70 members and guests first heard Daniela Brancatella and Kristen Walmsley from the Canadian Cancer Society describe the 2002 Relay for Life, to be held on June 21.
Then Dr. Richard Casey, a Urologist from Burlington, discussed "New Non-Hormonal Treatment of Localized and Metastasized Prostate Cancer." This topic is of vital concern to many of our members and was very well received.
WHAT'S AHEAD
The June meeting will be our usual social wind-up to the season and a "Computer Night" highlighting our web site and showing you some of the many other resources available on the Internet. If you have been considering purchasing a computer, take this opportunity to talk with our resident computer "geeks", Mukul Luthra and Jim Dorsey.
NEW MEMBERS
The May New Member meeting will be held at 7 p.m. on Tuesday, May 28 in the auditorium The following people joined our group in April: Emanuel Albergaria, Edmund & Erna Schulz.
FINANCES
Gerry Brunjes and others are again actively working to incorporate US TOO as a charity in the Province of Ontario. This has been delayed by the Ontario Public Servants' strike that has just ended. Once incorporated, we will register as a Charitable Institution under the Federal Income Tax Act. Once both processes have been completed, we can more easily fund our proposed information centre, as donors can write off their contributions on their Income Tax returns.
AWARENESS REPORT
A Prostate Cancer Awareness booth was once again set up at the Wal Mart at Highway 10 and Bovaird on Saturday, May 4. From 10:00 a.m. to 4:00 p.m., Ian Smith and his usual cohorts dispensed information to many people passing by. Thanks to Ian, Bill Dolighan, Bob Nelson, Murray Laidlaw, Morris Rambout, Fred Norris and Byron Wynter, several recent and potential PC victims and their families were made aware of US TOO for the first time. Great job, gentlemen. If we can spare just one person from some portion of the PC ordeal, our efforts are well worth while. And if we could round up more volunteers, we could spread the word even faster and farther.
RELAY FOR LIFE
A reminder that US TOO - Brampton will be entering a team in this year's Relay For Life, operated by the Canadian Cancer Society. Team Captain Jim Dorsey is actively seeking 10 to 12 team members to participate in this overnight non-competitive relay.. You can call Jim at (905) 453-3038 or Ian Smith at (905) 454-3880. This year's Relay will be held at the Caledon Fairgrounds starting on Friday, June 21st and finishing Saturday morning.
If you don't fancy a night out with the boys, you are welcome to sign up for just the "Survivors' Victory Lap" on the Friday evening. Many of our members have done the Victory Lap over the last few years and have always enjoyed the Victory Lap and other activities immensely. So much so that last year's group didn't get home until quite late!
2002 GOLF TOURNAMENT
Our 2002 Golf Tournament will be held on June 24 at the Acton Golf Club. If you'd like to join our golf committee and help make this an outstanding event, contact Morris Rambout at (905) 793-8843 or mrambout@idirect.com. Morris will have application forms at the May 14 meeting; cost per golfer is $60.00.
DON GRANT IS BACK!
Don is back from his two-month stay at The Villages in central Florida and reports that he'd rather still be back there. They apparently forced him to play golf 38 times while he was there. And he liked it. For more information, ask Don!